Podcast service
Podcasts have the power to captivate audiences by bringing your brand's story to life. Through insightful conversations, you convey your vision, showcase your products and services, and share compelling customer stories.
Get full service podcast production
Our state-of-the-art technology and experienced team can offer you seamless recording, editing and post-production for any project, whether is a radio or TV ad, a corporate video or a podcast series. Unleash your communication potential with Savoa
Professional, crystal-clear recordings
A high-quality podcast starts with the right equipment and environment. Our global network of state-of-the-art Podcorp Podcast studios offer the best possible environment for you and your guests to record. Can't make it to our studio? No worries—our expertise and cutting-edge technology will ensure a smooth, polished recording, even when broadcasting from home or over the phone.
Provide your hosts and guests with expert guidance.
Our Podcorp Podcast studios create a comfortable atmosphere for podcast hosts and guests where they can deliver their message confidently. Our insider tips will help you present your best self, while our team of experienced producers, voice directors, and sound engineers will support you every step of the way.
Craft a podcast that captivates your audience
Our skilled production team packages your podcast with intros and outros, relevant music and sound effects that bring your story to life. We meticulously edit the content, ensuring a polished, audible final mix that keeps your audience eagerly anticipating the next episode.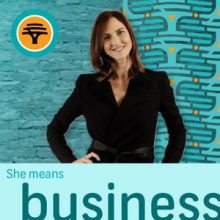 She Means Business is back! Join host Nicole Sykes as she celebrates young women in business and their incredible journeys. FNB supports and believes in women in business and we are proud to share their stories.
Ready to level up your podcast game with professional production values?
A network of partner studios connected throughout Africa
Our global network of studios, translators and voice talent, including people in remote regions of Africa, enables us to find the ideal voice for your project. We quickly source voices and partners to record for you, no matter where you are.
A highly professional team that genuinely listens to your needs
The demands on senior corporate executives with so many media channels, virtual meetings, functions and social engagements, has never been greater. The Savoa voice professionals will analyse and coach you to become the master of all media.